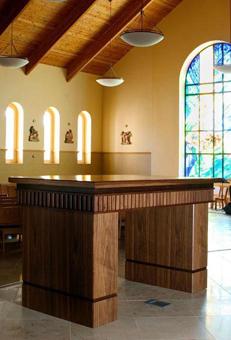 Halfway between the northern point of California's Central Valley and the Sierra lies the town of Paradise. Oaks and pines dot the rolling landscape of this town in the Sierra foothills. Chinook salmon and steelhead trout make their run from the Pacific Ocean to Paradise's Butte Creek. The creek and surrounding buttes suggest a mini version of the Grand Canyon. This rustic landscape forms the backdrop to Robert Kuklish's studio.
Robert Kuklish specializes in fine church furniture, and custom executive and home furniture. Religious organizations and individuals throughout the United States enjoy the beautiful furnishings and highest quality millwork.
Browse the Projects and Furnishings pages to see photos of his work. Visit the churches mentioned in these pages, and you will see first-hand the work that came out of his studio in Paradise, California.